The European Commission will seek clarification from Pfizer over whether there would be fresh delays in delivering Covid vaccines to EU countries next week, a spokesman for the EU executive said.
"We will seek clarification from the company," the spokesman told a news conference in reply to a question about a new slowdowns in deliveries reported by EU countries for next week.
Pfizer and the Commission had earlier said that there would have been no more slowdown next week, after supplies slowed this week.
Government officials from a number of EU states told Reuters yesterday that the US-based drug maker had cut the volume of Covid vaccines it was delivering in half this week.



Romania got only 50% of its planned volume for this week, the other half being allocated gradually by the end of March, with deliveries returning to normal starting next week, deputy health minister Andrei Baciu said. It was a similar situation in Poland, which on Monday received 176,000 doses, a drop of around 50% from what was expected, authorities said.

The Czech government was bracing for the disruption to last for weeks, slowing its vaccination campaign just as the second dose of vaccinations get under way. "We have to expect that there will be a reduction in the number of open vaccination appointments in the following three weeks," health minister Jan Blatny told reporters on Thursday, with Pfizer deliveries falling by about 15% this week and as much as 30% for the following two weeks.

Pfizer and its German partner BioNTech have declined to comment on the cuts beyond their statement last week, which announced cuts to deliveries as they ramp up manufacturing in Europe. On Wednesday, Italy threatened legal action against Pfizer.
Belgium cannot yet lift coronavirus-related restrictions despite a stabilising of Covid infections and falling daily deaths, the health ministry has said, ahead of a meeting at which the government may seek to ban tourist trips abroad temporarily, Reuters reports.



With one of the world's highest per capita death rates from COVID-19, Belgium has so far avoided a third wave of infections such as those seen in Britain and Germany. But the health ministry said the numbers remained too high to start easing measures.

The objective is to have fewer than 800 confirmed infections a day and fewer than 75 new hospitalisations a day for three weeks before starting to ease lockdown rules, a far cry from the current average of just under 2,000 infections a day.

"For the moment, the virus still has its hand in the game but we still have our two best players: vaccination and spring," health ministry spokesman Yves Van Laethem told a news conference.

This week also marked the first time in a month that the number of people in hospital is rising again, particularly in the last few days, Van Laethem said. "The situation remains fragile, on a plateau too high for health systems, especially since the number of cases and hospitalisations no longer seems to be decreasing," he said.

Belgium is not under a strict lockdown but bars, cafes and restaurants remain closed as well as gyms and cinemas, while home working is obligatory. The country of 11 million, home to the headquarters of the European Union and NATO, has officially recorded 20,620 Covid-related deaths so far.
Turkish president Tayyip Erdogan has said China has approved the delivery of a second consignment of the CoronaVac vaccine, produced by Sinovac Biotech, and that 10 million doses could arrive in Turkey by this weekend.
Turkey has already received an initial consignment of three million doses and has so far vaccinated 1.166 million people, mostly health workers and elderly people, Reuters reports.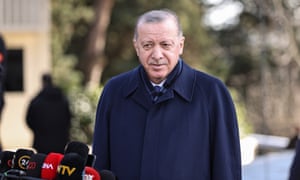 Lithuania's president has said the country expects to receive enough Covid vaccines to inoculate 70% of its population by early July, and that this would achieve herd immunity, Reuters reports.



The ambitious supply schedule hinges on vaccines from AstraZeneca and Johnson & Johnson being approved for use in the EU, in addition to the Pfizer shot already being administered, president Gitanas Nauseda said.

"We received assurances from the European Commission president that Lithuania will be able to vaccinate 70% of population by early summer, because we will receive 4 million vaccines during the first and second quarters," Nauseda said.

"The challenge is about to change from vaccine shortages to setting up mass vaccinations, so that we use the time optimally and can fully reach collective immunity (by early July). This is the goal we can set for ourselves," he told reporters.

Nauseda said Lithuania, a Baltic republic of 2.8 million people, will need to vaccinate 10,000 per day by February and up to 35,000 people per day by April to reach the July target. Between 1,000 and 4,000 people have received the vaccine daily this week, according to government data.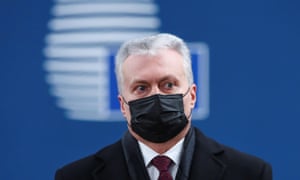 Thousands of Hong Kongers will be ordered to stay in their homes for the city's first coronavirus lockdown, local media have reported, as authorities battle an outbreak in one of its poorest and most densely packed districts.
AFP reports:



The order bans anyone from leaving their apartment unless they can show a negative test where cases have surged in recent days, and will last until everyone within the designated area has been tested, the reports said.

The South China Morning Post said the measures would come in at midnight Friday into Saturday with some 1,700 police ready to enforce the lockdown covering some 150 housing blocks and up to 9,000 people.

Health officials declined to comment on the proposal at an afternoon press briefing but multiple local outlets reported the lockdown citing government officials throughout Friday.

Hong Kong was one of the first places to be struck by the coronavirus since it burst out of central China. It has kept infections under 10,000 with some 170 deaths by imposing effective but economically punishing social distancing measures for much of the last year.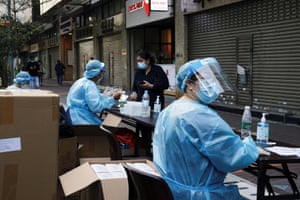 It's Mattha Busby here, taking over the blog from my colleague Ben Quinn. Good morning, good afternoon and good evening to everyone reading. Do drop me a note on Twitter or via email on [email protected] with any tips or thoughts.
Some heartening news from Israel, where an agreement between the government and Pfizer to share data has turned the country into what has been described as a "dashboard" for how the vaccine has had an impact.
A scientist at the Weizmann Institute in Rehovot, Israel, tweets this observation about medical staff who received the vaccine and the numbers who have fallen ill.
Israel's coronavirus "tsar" warned earlier this week that a single dose of the Pfizer/BioNTech vaccine may provide less protection than originally hoped, as the country reported a record 10,000 new Covid infections on Monday.
In remarks reported by Army Radio, Nachman Ash said a single dose appeared "less effective than we had thought", and also lower than Pfizer had suggested.
While coronavirus cases are starting to flatten across the US, the virus is still raging in many border communities, according to the New York Times.
Three of the six "metro" areas with the highest rates of known cases since the outbreak began are small cities straddling Mexico, it adds in a report from a county in Arizona that has the most cases per capita of one those areas.
Miriam Jordan writes:
Seasonal migration, the daily flow of people back and forth and lax measures to contain the virus's spread have created a combustible constellation.

Arizona has seen among the highest increases in newly reported deaths of any state over the past two weeks – and it is not clear when this troubling trend will abate.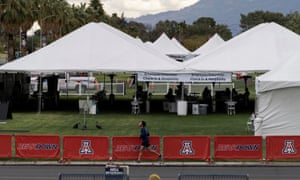 Police in London have broken up a wedding with almost 400 guests in a "completely unacceptable breach" of Covid lockdown rules that allow only six people to attend.
Under strict measures introduced at the start of the year, weddings are supposed to take place only under "exceptional circumstances", but officers found hundreds of people when they were alerted to a gathering inside a school in Stamford Hill, north London.
The windows had been covered over to stop people seeing inside. The organiser of the wedding faces a £10,000 fine.
"This was a completely unacceptable breach of the law, which is very clearly in place to save lives and protect the NHS (National Health Service)," DCS Marcus Barnett of the Metropolitan police said today.
Rémy Julienne, a stuntman who worked on six James Bond films as well as the 1969 classic The Italian Job, has died from Covid-19 aged 90.
A veteran of more than 1,400 films and TV commercials as an actor or stunt coordinator, Julienne had been in intensive care in a hospital in his home town of Montargis in central France since early January.
"What was bound to happen has happened. He left us early in the evening (Thursday). It was predictable, he was on a respirator," a relative told AFP.
Julienne was born in Cepoy near Montargis in 1930. A French motocross champion, he began his film career in 1964 when he doubled for the French actor Jean Marais in the film Fantomas, in which he was required to ride a motorbike.
"They needed someone who was very controlled," he said of this experience. It ended up being me. It was the start of a huge adventure."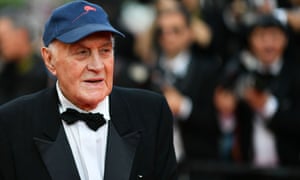 He doubled for some of the world's most famous actors, including Sean Connery and Roger Moore, as well top French actors including Yves Montand, Alain Delon and Jean-Paul Belmondo.
He worked on six James Bond movies in total, including GoldenEye and For Your Eyes Only, in which he drove a heavily modified yellow Citroen 2CV during a memorable car chase.
Canadian provinces will not get a per-capita share of Covid-19 vaccine doses amid a worsening slowdown in shipments from Pfizer-BioNTech, the Globe and Mail reports.
Major-Gen Dany Fortin, who is leading Canada's vaccine logistics, was reported to have said that the delivery from Pfizer for the week of 1 February will be cut to 79,000 doses, amounting to a 79% drop. He said earlier this week that Canada will get none of the 208,650 doses originally expected next week.
A research centre aimed at ensuring that the Netherlands is better prepared for future disasters is being established in a partnership between Dutch authorities and Erasmus University Medical Centre (Erasmus MC).
Ernst Kuipers of the Dutch national acute care network LNAZ and Rotterdam's mayor, Ahmed Aboutaleb, revealed details of the plans, the NL Times reports today.
The Netherlands ended up dependent on other countries for supplies like personal protective equipment, Aboutaleb said.
"In the future we must try to be as independent as possible. My wish is to set up this plan within three years. Not only nationally, but perhaps also internationally," he added.
Prime Minister Narendra Modi has said India was completely self-reliant on coronavirus vaccine supplies as the world's second-most populous country inoculated more than 1 million people within a week of starting a massive campaign.
On Saturday, India began what the government calls the world's biggest vaccination programme, using two shots made locally: one licensed from Oxford University and AstraZeneca, and another developed at home by Bharat Biotech in partnership with the state-run Indian Council of Medical Research.
"Our preparation has been such that vaccine is fast reaching every corner of the country," Modi said while speaking with healthcare workers from his Varanasi constituency through video conferencing.
"And on the world's biggest need today, we are completely self-reliant. Not just that, India is also helping out many countries with vaccines."
Japan's deputy chief cabinet secretary Manabu Sakai has told reporters on Friday that there is "no truth" to reports about the possible cancellation of the Tokyo Olympics.
The Japanese government is carrying out "thorough countermeasures" in order to be able to hold the games, Reuters reported.
The pandemic is placing "real pressure" on preparations for the Tokyo Olympics, the Australian prime minister has said, after a report claimed the Japanese government had privately concluded this summer's Games will have to be cancelled.
"The situation in Japan, right now, in terms of the spread that's occurred there more recently, is quite different to even when I was there in November," Scott Morrison said on Friday.
"I can understand that that's putting some real pressure" on the Japanese prime minister, Yoshihide Suga, the prime minister said, adding that "any prime minister anywhere, has to put, I think, the health and safety of their populations first and what can be managed".
Morrison – who said he was aware of rumours about the future of the Games, due to open on 23 July – said cancellation "would be very disappointing for the Japanese people" and for Suga and his predecessor, Shinzo Abe, who oversaw Tokyo's successful bid for the Games in 2013.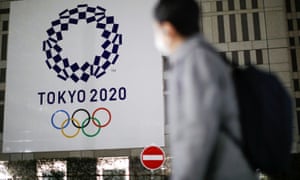 News that the United States under President Joe Biden intends to join the Covax vaccine facility that aims to deliver coronavirus vaccines to poor countries, is being welcomed today.
Coalition for Epidemic Preparedness Innovations (CEPI) tweeted:
Anthony Fauci, speaking to the WHO executive board on Thursday, confirmed that the US would remain a member of the UN agency and said it would work multilaterally on issues from the Covid-19 pandemic to HIV/AIDS.
"This is a good day for WHO and a good day for global health," WHO director-general Tedros Adhanom Ghebreyesus said.
Myanmar has received 1.5m doses of a Covid-19 vaccine supplied by India to inoculate 750,000 people, the first vaccine batch delivered to the south-east Asian country as it fights one of the worst outbreaks in the region.
India is donating millions of doses of vaccines to a string of countries in Asia, drawing praise from neighbours and pushing back against China's dominating presence in the region.
Shipments of AstraZeneca's vaccine manufactured by the Serum Institute of India, the world's biggest producer of vaccines, have already gone to the Maldives, Bhutan, Bangladesh and Nepal.
Myanmar was among the countries next in line to get free consignments as India moved before China which has also pledged to supply vaccines to its neighbour.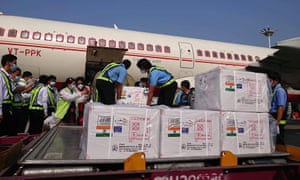 Authorities in Beijing have ordered more coronavirus tests for about 2 million people in its downtown area after new cases were reported in the Chinese capital.
The city health department said all residents of the Xicheng and Dongcheng districts are required to undergo testing on Friday and Saturday. Results are usually delivered by smartphone app within a few hours.
In one neighbourhood in Dongcheng, the Associated Press news agency reported how several thousand people lined up in freezing temperatures around a corner and down several blocks, waiting to enter a building for testing.
They included a group of street sweepers who stood out in their high-visibility red and green uniforms from others wearing dark winter jackets.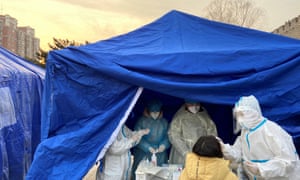 Ireland could be in lockdown for a further six weeks under plans being considered by authorities amid the spread of a new variant first identified in south-east England, the Irish Independent reports.
Ahead of discussions next week, Irish government ministers were said to be considering an extension of the highest level of coronavirus regulations until just before St Patrick's Day.
Ireland's Covid-19 death rate is at its highest level since the start of the pandemic with an average of 44 deaths a day in the past week, a senior health official said on Thursday.
"The number of deaths confirmed per day over the last seven days, 44, is the highest we have seen at any point during the pandemic," Philip Nolan, head of the government's Covid-19 modelling unit, told a news conference.
The infection rate, however, has fallen sharply from a pandemic high registered earlier in January. There were an average of 2,430 new cases over the past five days, down from a five-day average of 4,473 reported a week ago.
The January increase followed an easing of public health restrictions in December.
Want to know more… click here go to source.
From The Guardian -