Dubai is keeping restrictions loose to preserve its reputation as a centre for trade, transport and tourism despite rising case numbers, reports Frank Kane.



Dubai is still hard at work, trying to carry on, even with its current spike in Covid infections.


During working hours, like other financial hubs around the world, the Dubai International Financial Centre is still the domain of suits and pencil skirts. By night, it becomes the swanky playground of the emirate's glitterati, where chic restaurants and cocktail bars pull in the well-heeled movers and shakers of the Dubai business scene. The car park valets handle a steady stream of Rolls-Royces and Ferraris.

However, the authorities have been stung by a string of reports suggesting that the emirate was endangering the health of its 2 million residents by throwing open its doors to global revellers, even as Covid cases hit record levels in many parts of the world.
This is Rachel Hall taking over from Mattha Busby. Do send me any tips and thoughts to [email protected], or you can reach me on Twitter here.
Epidemiologists in Greece are poised to recommend that junior and high schools reopen as the country's coronavirus case load continues to drop.
According to local media, scientists advising the government have said schools can reopen on 1 February in what would be a big step for a nation under lockdown since 7 November. The decision is expected to be formally announced at 6pm.
It follows the reopening of shops for the first first time in over two months on Monday – albeit under strict coronavirus restrictions. Under social distancing rules, entry to stores is limited to one person per 25 sq metre with the result that long queues have formed outside retail businesses during opening hours.
In the wake of a nationwide lockdown that has included a 9pm to 5am curfew, Greece has begun to finally suppress the second wave of the pandemic, epidemiologists say.
Speaking to the Guardian recently, the infectious disease expert Gkikas Magiorkinis, who is among the scientists on the advisory committee, said a surge in cases since November had proven "far more difficult to deal with but also the lockdown has been more relaxed than the first [in March]. People are clearly tired."
Kindergardens and primary schools opened earlier this month as the centre-right government began to ease curbs aimed at stemming the spread of coronavirus.
"We are going to be very cautious about lifting measures," Magiorkinis said. "We don't want people to gather indoors. If restaurants open it will be strictly with tables outdoors."
Infections rates continued to drop this week with Greece's public health organisation, EODY, registering 509 new cases on Thursday compared to 516 and 566 over the previous 24-hour periods. Ten days ago, 866 cases were announced by EODY.
Although the country, which has a population of almost 11 million, has fared better than most EU states confirmed coronavirus diagnoses rose to 150,479 on Thursday. The death toll stands at 5,470.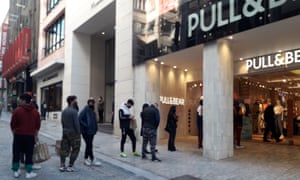 Germany's health minister, Jens Spahn, has called for understanding of a continuation of harsh lockdown conditions in Germany, saying that despite a slow down in the rate of infections they were necessary to prevent a "considerable worsening" of the situation.

Germany's death toll rose to more than 51,000 on Thursday, having been increasing at an average of 1,000 deaths a day for several weeks.
Spahn told a press conference, flanked by the head of the government disease control agency, the country's leading coronavirus virologist and the head of intensive care medicine in Germany, that the measures would have to remain in place until at least "the end of February or into March". He cited the dangers of mutations first detected in England, South Africa and Brazil as being a factor behind the decision.
Germany, which has a population of 83 million, reported almost 18,000 new coronavirus cases today, about 4,000 less than a week ago.
Spahn said he could understand the bafflement of many Germans over why the measures had been extended and intensified in recent days, despite a fall in numbers. Public discontent was reflected in a flurry of emails, telephone calls and letters he had received, he said.



The numbers of the the last few days are encouraging. They're going in the right direction. The infection rate is sinking. We're seeing the first easing on intensive care wards … but it's still a considerable burden with very many Covid-19 patients in the intensive care wards and in hospital.

But the numbers are still too high, and what we need is to collectively use the intensified measures, despite the many hardships they bring with them, to continue to suppress the numbers … so that this virus is controllable.
Germany's coronavirus rate has for months been too high to enable contact tracing, which Spahn said was a crucial tool for being able to control the disease. Spahn said with almost 5,000 ICU beds taken up with Covid-19 patients, it was imperative to reduce numbers being hospitalised to prevent the health system being overwhelmed.



We need to explain this contradiction and this ambivalence. Why, even though the figures are moving in the right direction … we are right now intensifying the restrictions for a manageable length of time to bring down these numbers still further. Neither politicians nor citizens want to have to accuse each other that we relaxed too early, and if we look at other countries in Europe we can see how quickly the situation becomes inflamed again.
He later referred specifically to the situations in Britain and Portugal.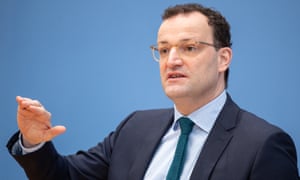 Want to know more… click here go to source.
From The Guardian -